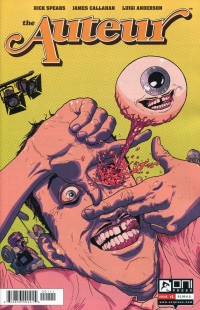 For the life of a weekly comic book reader, some weeks the books are spot-on, other weeks they're…well, weak (unless of course you're shopping @MeltdownComics, then it's always a good time).
Not a thing weak about this week! Each publishing house offers a unique title to be sacrificed for the onslaught of the consuming, comic-book-reading horde!
The champion of the the week: ONI PRESS' THE AUTEUR #1 (Rick Spears/James Callahan/Luigi Anderson). Talk about a book that axe-hacks into your head, just to show you how colorful your brains are. Think you've read all the artist's-struggle-stories out there? The Auteur demands to be the best. It finds an equilibrium betwixt entertaining and expressing what we've all felt. Throw in a few tableaus that say, "Itchy and Scratchy, eat your hearts out…literally," and you've got THE AUTEUR #1.

Out of the DC COMICS corner comes FOREVER EVIL #6. Nightwing's fate hangs in the balance as the skirmish between the villains vs. the Syndicate rages on. Expect a pivotal cameo from a familiar DC universe character, fashioned in some new duds. P.S. Cap'n Cold puts to shame those who nay-say him.
On a different tonal note, but just as note-worthy, IMAGE offers a new title from Mark Millar, STARLIGHT #1. If you're expecting KICK-ASS, don't. Starlight #1 hits hard right away with its message: one choice has consequences. The narrative introduces space explorer Duke McQueen's imaginative, other-worldly past, and his hard-hitting present in our reality. (*note: You might need some tissues for this issue.)
What does BOOM! STUDIOS have to offer? Why, it looks like EVIL EMPIRE #1. This title takes the post-apocalypse concept, but relishes in the HOW America falls apart, rather than waking its protagonist up from a coma years later. In closing: if you thought House of Cards offers you wickedly, seedy politics, just wait till you read Evil Empire #1!
Comin' at'cha like a dark horse, it's VEIL #1 from DARK HORSE COMICS. To describe our title character Veil, would be a lot like describing a *Leeloo-Dallas-Multi-Pass figure…if she was from Hell (*The Fifth Element). If you are in need of the supernatural and a decent amount of rats in your life, pick up VEIL #1.

Completing the list is one of a couple new MARVEL #1′s, the one and only, MAGNETO #1. Not only offering perhaps one of the coolest covers out of their #1′s, Magneto #1 gives a greater insight into the iconic character. Though it isn't necessarily the entire focus of the issue, a parallel is drawn between Magneto's motives and the motives of Sentinels. X-Men. Theory. Magneto #1! Read it!
Which titles did you like the best? Let us know in the comments section!
If you don't want to miss any of these issues, follow the link to our subscription service below:
http://www.meltcomics.com/blog/subscription-service/
Meltdown Comics, 7522 Sunset Blvd. LA, Calif. 90046 (map)