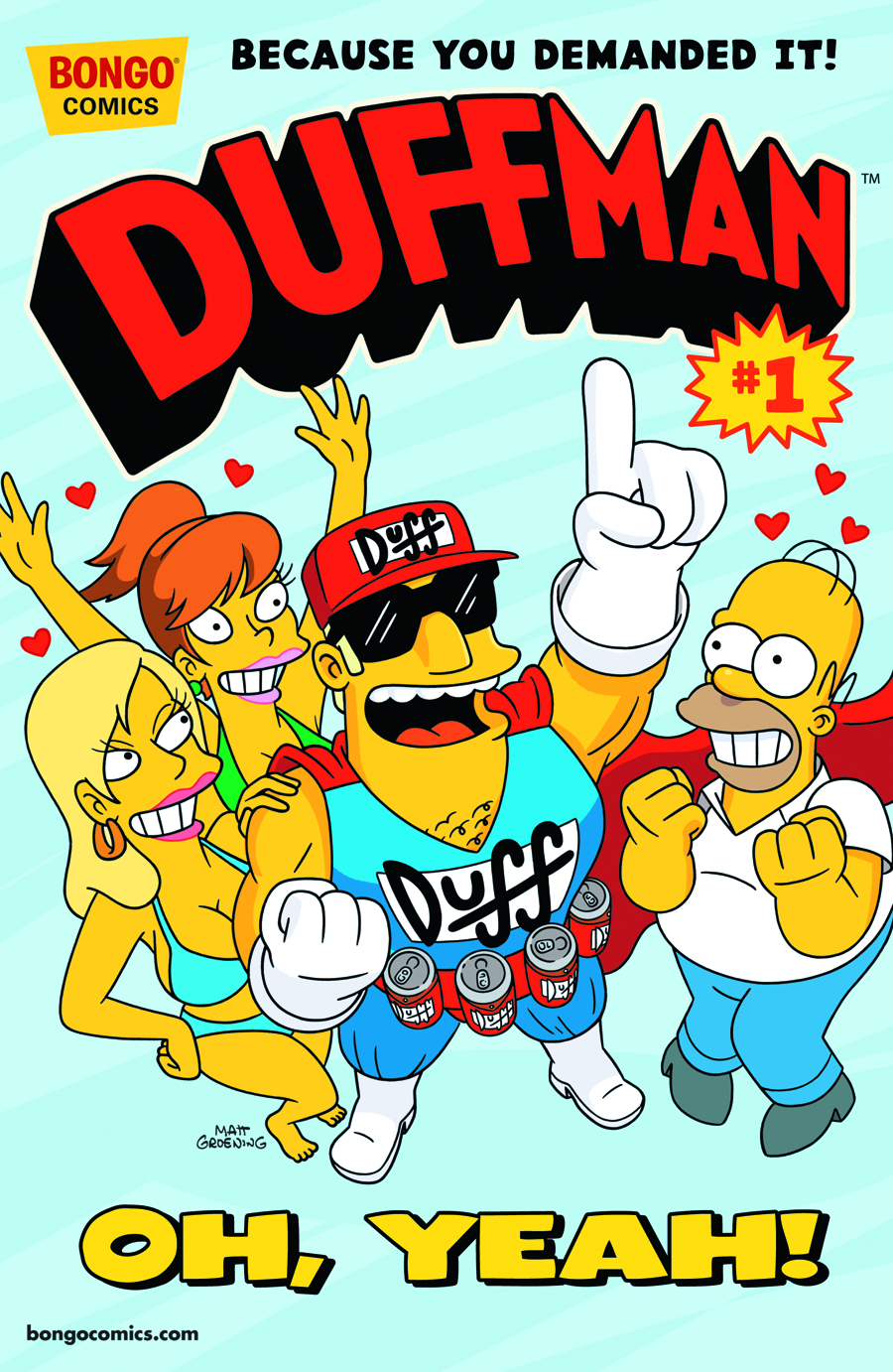 Hello again to all you loyal followers of the @MeltdownComics blog! This week was full of LOLs, LULZ, HAHAs, a couple of TEE-HEEs, and the rare GUFFAW, as well as a healthy mix of WHAT THE FUDGERUCKERS™? Let's be honest, we love comics and the many forms that they take, but sometimes with all the crossovers, and the retcons (wordpress is telling me retcon isn't a word, silly technology), and the spinoffs, we forget the point is to have fun reading. Well thankfully, this week helped keep the fun alive.
The first title to kick off the hilarity of the week was DUFFMAN #1, brought to you by BONGO COMICS. The first half of the comic tells the origins of Duffman, which are basically the same as another famous hero's origins**cough**myfavorite**cough**, just simply replace the green power battery with a keg of beer. Nearly every panel is worthy of laughter, and if you want more Duffman-inserted-into-pop-culture-backdrops, there's plenty more in the second half. Plus, every issue comes with a FREE DUFFMAN MASK!! DUFFMAN #1! "OH YEAH!"
The next book to keep the laughs coming spawns from the same mind that brought you DORK!, Mr. Evan Dorkin. Say hello again to THE ELTINGVILLE CLUB, from DARK HORSE COMICS. For those die hard comics fans who maintained a near-permanent residence at their local comic shop growing up, you will love this book. The level at which the main characters nerd-rage trump this guy. **Disclaimer: @MeltdownComics would like to take this time to remind you we do not condone the business tactics of Joe's Fantasy World, nor his treatment of employees/customers. @MeltdownComics encourages you to have fun and read responsibly.** That being said, enjoy THE ELTINGVILLE CLUB!
EVENT ALERT! EVENT ALERT! After much promotion from the MARVEL team, ORIGINAL SIN #0 has hit the shelves, and it stands as yet another testament to what Mark Waid can do. The story feels grounded in a very ancient framework, yet our protagonist, at least for this issue, is our young hero, Nova. The result of this narrative/protag combination creates ease within the accessibility, yet teases at a greater depth underneath. As well, I think the Watcher has the potential to become a major character in the Marvel mythos. Don't miss ORIGINAL SIN #0.
Everyone loves a good origins story, yeah? How about SECRET ORIGINS #1 from DC? This title explores the side of your favorite DC characters to which you haven't yet seen! The three heroes they've chosen for this issue are Superman, Robin, and Supergirl, my favorite of which being Robin's. Nothing against the Kryptonians, but it always puts a smile on my face when the hardest working sidekick gets his time in the spotlight! Excited to see what origins they tackle next in SECRET ORIGINS #2.
We start to get into WTF (the positive usage) territory with our femme fatale in the IDW corner, DANGER GIRL #1! This quite truly might be one of the most explosive first issues to come out in recent trade. This girl is so dangerous **SPOILER ALERT** a gang of henchmen would rather simultaneously bite into their cyanide capsules, mid-battle, than ever have to face her! That's how dangerous this girl is!! Don't get on her bad side: DANGER GIRL #1!
Closing out the WTFs comes UNDERTOW #3 from IMAGE COMICS. Our journey continues as we join the water-breathing land-tourists on the surface. From there, we're introduced to a dastardly character, who looks just so cool slaying everything in his path, you forget he's doing it to our most primal ancestors. Kudos again to the UNDERTOW team for another killer issue!
FOR YOU LOCALS, DON'T FORGET TO ATTEND OUR INKSTUDS EVENT TONIGHT!! BRANDON GRAHAM. PENDLETON WARD. JAIME HERNANDEZ. BRYAN LEE O'MALLEY. THOMAS HERPICH. ROBIN MCCONNELL. OUR PANEL AT 7PM IS SOLD OUT, BUT THERE WILL BE A SIGNING AFTERWARDS!! COME STOP IN!!
Which titles did you like the best? Let us know in the comments section!
If you don't want to miss any of these issues, follow the link to our subscription service below:
http://www.meltcomics.com/blog/subscription-service/
Meltdown Comics, 7522 Sunset Blvd. LA, Calif. 90046 (map)