Moved to Japan, publishing PEEPO CHOO!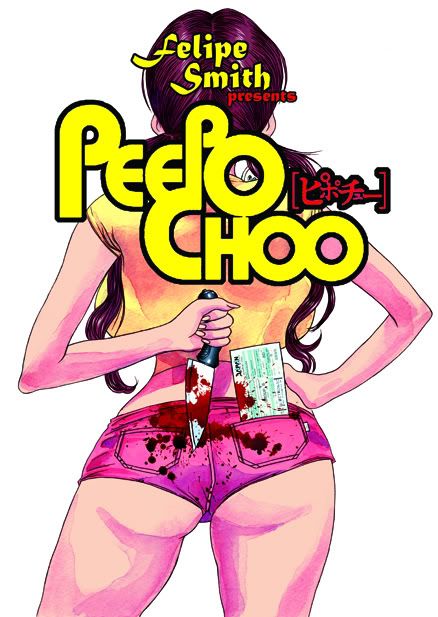 Hey EVERYBODY!!! How's it going?!
Been a MINUTE!! A LOOOOOONG MINUTE! A HALF A YEAR minute!!
I'd like to apologize to all my peeps for disappearing without leaving a trace and not logging on for the past few months. For those of you who picked up MBQ, and those who posted pics of yourselves holding my books, THANK YOU so much! Your support is madly appreciated and I'd like to thank you all individually. Unfortunately it's becoming harder and harder for me to get online.
I moved to Japan where I'm currently working on my next graphic novel series, "PEEPO CHOO". It's being published through Kodansha and released monthly through "Morning 2" magazine. The first issue dropped in stores in Japan TODAY! I got the COVER and the first 6 COLOR pages, too!! The full chapter is 44 pages; after that I'll be releasing between 40-60 pages every month.
I'm experiencing the heaviest Deadline Ass-Beating I've EVER tasted, and I'm really trying not to mess this up, hahaha. I should be drawing right now…
But I really wanted to thank everybody who supported me from day one and PAINSTAKINGLY took the time to hunt down my MBQ books, or order them online, because they aren't in any bookstores, haha! You guys are the BEST, and you make every sleepless night of drawing worhtwhile! Thanks for reading, telling your friends about my work, and just HOLDING IT DOWN like a MUTHAFUKA!
To all my Drink & Draw Peeps and LA Artist Homies: Sorry for bouncing without any notice. Shit was pretty stressful and my head was about to explode. I just had to get out and handle some business. I miss the hell out of you guys, and I miss getting wasted too! Hahahaha! All I really get time to do now is draw (no drink)…and then draw some more.
Familia MELTDOWN: THANK YOU ALWAYS for being in my corner of the ring, EVERY TIME.
Chi-Town Crew: Chi-Tilla, Fa RILLA! Haha! (Oh yeah! Peepo Choo starts out in Chicago's Southside! Holla!)
MBQ Anonymous: It's MBQ & PEEPO CHOO now! Let's do this! URAAGH!
And finally, for those of you who might be near a Japanese bookstore like "Asahiya" or "Kinokuniya" and would like to check out "PEEPO CHOO" you can ask for "Morning 2" magazine there. I'll be publishing PEEPO CHOO monthly through that magazine as of today. It's in Japanese, but you get the gist of my stories just by looking at the pictures, haha 😉 Check it OUT!
I'm attaching some pics as well, so you can see what the magazine looks like, as well as the interior. I'm REALLY far from home now, and publishing my work in another language for a different readership, so please pray for me not to SUCK! Hahahaha! I really appreciate you guys always backing me up. I feel I'm not alone in this REVOLT!
Alright yo, that was my news flash, sorry about the long-ass post. Hope you guys are well and wildin' out daily! And don't forget; it's ALWAYS time to REVOLT!
HOLLA!!!
Felipe